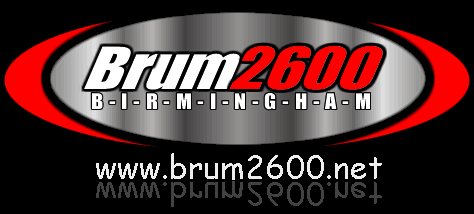 Feb05 Meeting Report.
Brum2600 Feb 2005Brum 2600 5th February 2005.In attendance:L-s-L (fucking hell I turned up!)
Re-load
Savvy
Zipser
Guru
Claire
Mike
Task
**************************************************************************************************
*
* BRUM 2600 DOES NOT CONDONE OR PRACTISE ANY ACT ILLEGAL UNDER BRITISH LAW
* WE EXIST AS A FORUM FOR FREE AND OPEN INFORMATION EXCHANGE.
*
**************************************************************************************************what is it ? guess and win beerHaving loitered for about 40 mins in snowhill and becoming increasingly convinc ed no one was going to turn up, I was pleasantly surprised when a small group b egan to mill around and eye me up suspiciously. Taking a chance I introduced my self and took them to the pub. Meeting up with the other regulars at the bar introductions all round.The topics came thick and fast and i didn't bother writing many down. But from what i remember we covered topics as diverse as Cement and mining fatalities as well as covering the more usual ground of phones/computers and other high tech stuff.I kicked off the evening with a more physical side of security and passed aroun d a catalogs of lock picking tools and showed off my small kit. shame buy a big car :)...EDThe question always asked when meeting new people is generally, "So what *nix d o you use. This lead into various discussions on BSD, Solaris, Linux and window s and why Slackware is really the only distro to give a Linux learner (you sadi stic bastards).Coverage of mining fatalities distracted our attention for a while until reload switched on his penis (blue-tooth model) and was promptly blue-snarfed. Heh, 0wn3d etc etc. Discussion of Blue jacking/snarfing/toothing and the tech behind it followed.Wireless technology in the form of 802.11 also played a big part with a look ou t a comercial provider and its strength and weaknesses as well as discussion in to the frankly shocking number of open access points one can still find - mind you it does give good plausible deniability!A huge amount of other topics where mulled over but Ive forgotten most. I know Range/Land rovers played a part as did PBX technology and evolution. Asterix a Linux based PBX solution. LSM module in Linux and things you can do to it.All in all a great meet, and it was nice to see some new faces.Quotes"As he stood up, it took his head off""They kicked the head down the side, so the others didn't see it""Lots of places to hide a body""Thats your phone book""Nice Merc - Smallest dick in the carpark""SSH - now Ive heard of that" -- not anyone at the meet, but heard from someon e who really should know better.PeaceL-s-L
Images.